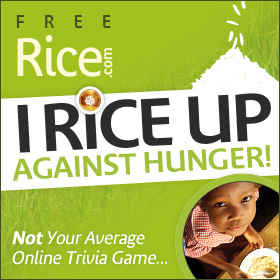 On Friday, students were introduced to a terrific on-line game called
Freerice
. The vocabulary game is easy to play, just click on the correct definition for the given word from four choices. For every word you get right, 10 grains of rice will be donated to the
World Food Programme
to help feed some of the world's hungriest people. You get smarter, have fun and help others all at the same time! Below are some videos giving more information about the game and where the rice goes when it is donated.
This video is from 2008, so some of the donation numbers they mention are much lower than they are now.
If you haven't played Freerice yet, go give it a try!